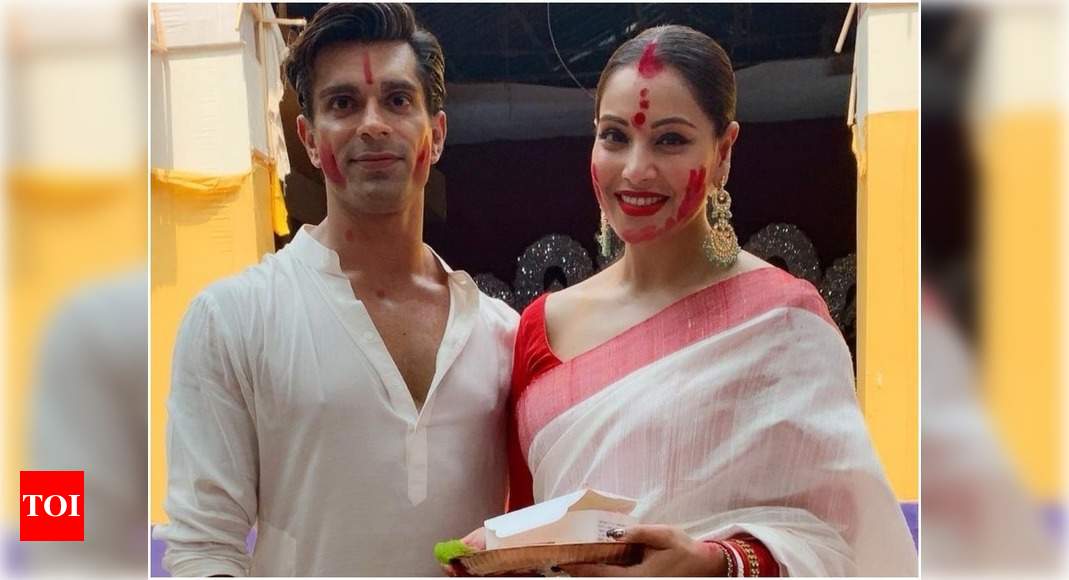 Durga Puja celebrations may be low-key this year, but everyone's trying to keep their spirits high.
Bipasha Basu
made the most of it as she celebrated the festival at home with husband,
Karan Singh Grover
. Talking about it, she says, "Karan has been doing the puja, while I take care of other things. We have made bhog at home with dishes like khichuri, alur dom and bhaja. The celebration this year is nothing like it was last year. I am going to miss sindoor khela, which I celebrated last year with my two sisters."
Every year, Bipasha participates in the Durga Puja celebrations in Mumbai, though her best memories are from her childhood days in Kolkata. She recalls, "As kids, we used to wear two new outfits every day — the morning look and the evening look (laughs!). We would get pocket money from our parents and relatives. We would save it only to binge on Chinese food and Calcutta rolls. My friends and I would visit different pandals and see the different protimas there. At padar pujo (pandal in the locality), we were given different responsibilities. Our job was to cut fruits, make chandan, look after the flowers, etc. On the day of the visarjan, we would have coconut laddoos from around the idol."
The last time Bipasha visited Kolkata for Durga Puja was in 2016. "That's the year Karan and I got married. So, we went there to seek blessings on Ashtami. Karan enjoys celebrating Durga Puja with my family. He knows that I feel a strong connection with Maa Durga since childhood. I have always felt like she is next to me," she shares.

Our conversation is interrupted by the sound of a conch blowing.
Bipasha tells us that its part of the puja that her husband is performing. She says that she often feels he is Bengali, too. "He sings, paints, writes… basically, he does all things that a typical Bengali would do. He loves Bengali food including labra (mixed vegetable), begun bhaja (friend brinjal), aloo-phulkopir dalna (potato, cauliflower curry), etc. In fact, even before we got married, Karan could speak Bengali. Whenever he spent time with my family, he spoke in Bengali with them. Maybe he learnt it so well only to impress my parents (laughs!)."